Kiitos Ii -Thank you Ii
07/01/2011
My Residency experience it finished on december 17th, I really had a great time, professional gratifications, fun, nature, and many new friends. I'm just starting to feel a kind of homesick but the right word it is more "Ii-missing-sick" and or "KulttuuriKauppila-missing-sick".
Even if I stayed almost 3 months apparently all alone, I have never got bored or feeling lonely. This is because of the pure beauty of the place where I've been, but mainly because of the people I met in Ii, and in Oulu as well, because of the way they took care of me and they encouraged my work, the way they showed my the finnish way of life that now I love so much and some other secrets of Lapland.....
Now I just want to thank one more time Leena, Helena, Sanna, Antti, Heikki, Matti, Kaisa, Lea (there's no a right order to put all these names all of them they have been so special!) Maria, Jukka, Heidi, Meri, Meeri, Venanzia and her family, Roosa, the Sanna's friends Maria and her husband (I never remember the name!) Birko, Ulla and all the friends of Dante Society that was so interested on my work, Ari- my fun!, Jukka and Roosa's parents - (next time I'll come back to your place again), Kaisa's brother and his wife, the lady od Yappinen bar, so nice and friendly, the real Santa Claus I met in Yappinen, Janne, Petri, Paavo, the guys of Liminka school of Art, Harmaja gallerist that I met on my last day in Oulu and she gave me a present, Sandra that took my favourite drawing, all the people that came to my exhibition and share with me theyr own impressions about it, Jussi and Minna, wih KulttuuriKauppila they realized twice my dream, Jussi and Eva Kaisa, and Nemo, the biggest and friendly cat I ever met, Metka and Iolly, Tossu, Misu, Roosa's beautiful horse and all those crazy dogs that pulled my sled... And my dear friend Giuliano that came for a couple of days and share with me some nice memories, all my friend that supported me from home, my husband Erik that he supports me every day who reached me on the final week to see that all my incredible stories were just a wonderful reality.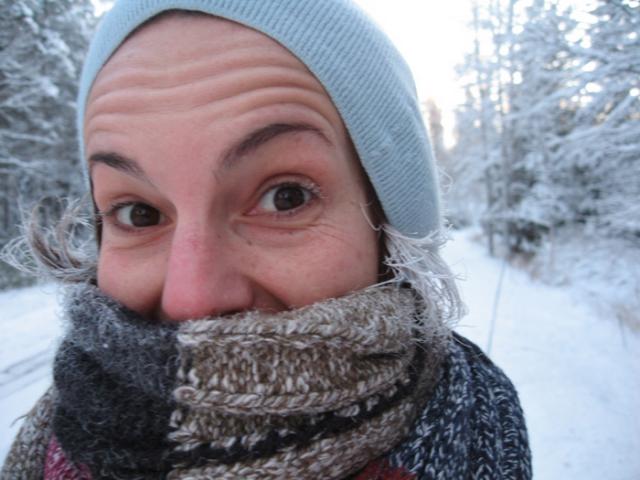 Other news
03/12/2022

08/10/2022

01/11/2021

31/10/2021

01/09/2021

13/08/2021

06/07/2019