In Fieri: social practices of drawing
08/10/2022
In Fieri, Metamorphosis and mutations. The social practices of drawing.
Curated by Cristiano Focacci Menchini, in collaboration with The Studio Invisible, DAE, Design Academy Eindhoven, and Veronica Cogoli and Gaia Bordignon.
BarDaDino is pleased to present the result of the experience of a collective drawing held by the artist Cristiano Focacci Menchini. The project was born to relate and compare different generations of artists using a 13-meter paper support as a surface where to spread immagination. 
Furthermore, three paper works are result of intense dialogue that took place in two different moments, the first one in september 2022 at AED in Eindhoven, and the second at the beginning of October when drawings where finshed in BarDaDino, Venice.
Forty different minds they expressed themselves, establishing a relationship between theyr own different sensibilites leaded by Cristiano Focacci Menchini.
The individual parts drawn intertwine and interact with each other and signs and shapes build ever more complex stories.
In Fieri it is a relational map where every single element and signs, even the tiny one aside, if removed, changes the balance of the whole work.
With the help Veronica Cogoli and Gaia Bordignone and drawings made by Giuseppe Abate, Lilou Angelrath, Jack Austin, Giulia Benacchio, Alessandro Bevilacqua, Gaia Bordignon, Simone Carraro, Nina Ceranic, Julija Česnulaitytė, Theo Chiquillo, Brandon Chow, Veronica Cogoli, Bar Cohen Prahya, Hadas Cohen, Alessia Crestani, Viola Franchini, Nicolà Frehner, Noé Garcia, Riccardo Giacomini, Livni Holtz, Valentin Klauß, Kasia Łukaszuk, Clara Malan, Sofia Massalongo, Daniela Mereuta, Gianpaolo Murtas, Gad Lomholt Nimér, Réiltín O'Hagan, Miriam Pertegato, SabrinaPeruzzo, Egle Pundzeviciute, Sara Rebelato, Jarno van Renswoude, BoRee Rijzinga, Anouk Sébastien, Giada Scapin, Ida Teglbjaerg, Elisabetta Venzo, Francesco Zanatta, Wen Zhou
IN FIERI. METAMORPHOSIS AND MUTATIONS
on show 13 m of social practices of drawing
curated by Cristiano Focacci Menchini
8.10.2022 - 18:00
BARdaDino, Calle della Pietà 3716 / A, Venice
in collaboration with Invisible Studio, Design Academy Eindhoven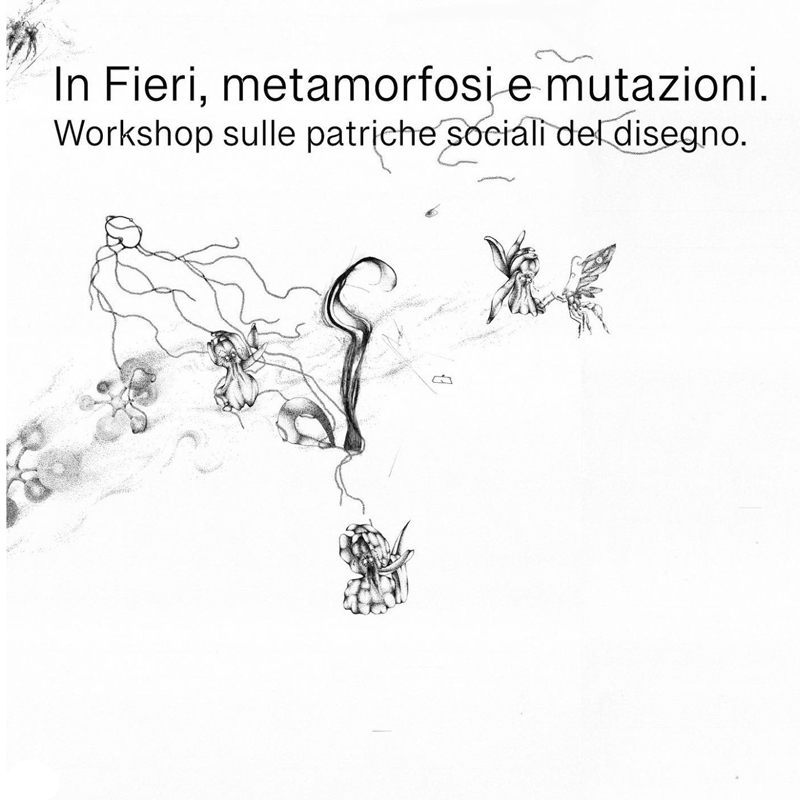 Other news
03/12/2022

01/11/2021

31/10/2021

01/09/2021

13/08/2021

06/07/2019