Atelier F. Shows for a night
21/06/2013
Atelier F.
The Painting Course named "F" where I work is pleased to present a new exhibition for The Art Night of Culture in Venice 2013. 
You can see the show for a night into the studio of Accademia di Belle Arti di Venezia, from the 8.00 p.m. of the  22nd of June to the 2 a.m of  the 23rd.
Exhibith girl artists only:
Espongono: Beatrice Alici, Giulia Andreis, Luisa Badino, Giulia Maria Belli, Elisa Bertaglia, Giovanna Bonenti, Elisabetta Calore, Maria Candeo, Nina Ceranic, Shi Hising Chun, Giorgia Dalla Valle, Dalila Dal Piaz, Veronica De Giovanelli, Barbara De Vivi, Chiara Enzo, Anna Facchetti, Ilaria Fasoli, Roberta Gattel, Beatrice Gelmetti, Debora Ieranò, Manuela Kokanovic, Chiara Lazzari, Valentina Lentini, Justine Luce, Iva Lulashi, Ira Marusic, Anna Marzuttini, Stella Mason, Luana Diana Matei, Francesca Musig, Marta Naturale, Silvia Pacchiella, Anastasia Parvanova, Sofia Pastore, Jessica Pavan, Veronica Piccolo, Michela Pittarello, Barbara Prenka, Zarja Razman, Feliciana Riccoboni, Giaia Dei Rossi, Giulia Sacchetto, Elisa Santin, Satomi Sachi, Sindi Sartori, Catia Schievano, Giulia Scudier, Alice Secci, Chiara Sorgato, Maddalena Tesser, Sulltane Tusha, Nezka Zamar, Marina Zaffalon, Camilla Zanini, Francesca Zucca.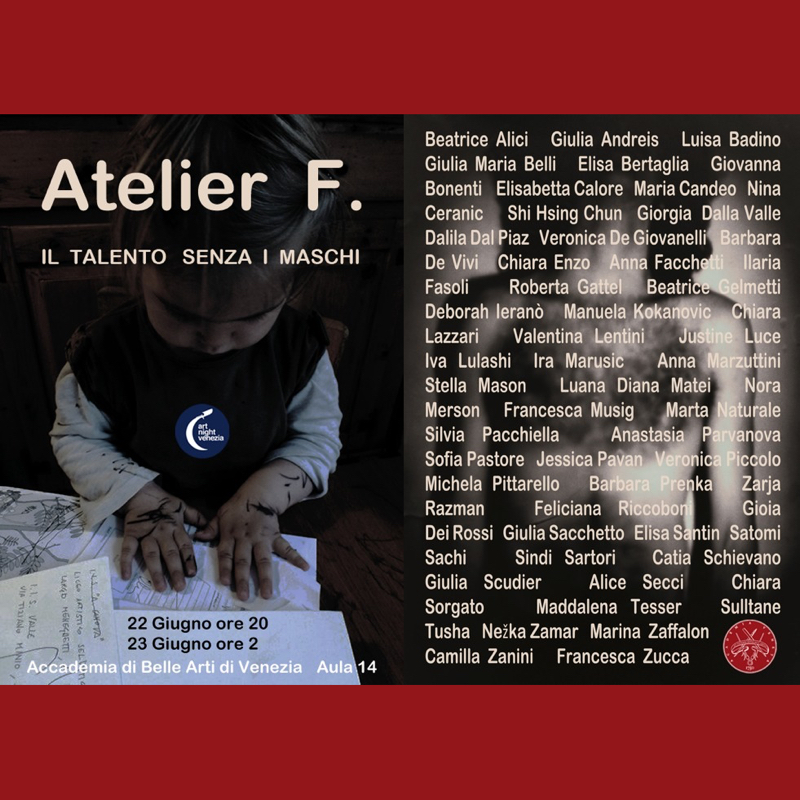 Other news
03/12/2022

08/10/2022

01/11/2021

31/10/2021

01/09/2021

13/08/2021

06/07/2019